Talk about going from 0 to 60 in record time.  Indianapolis' Sun King Brewing Co. crashed the beer world's party with an incredible eight medals at the 2011 Great American Beer Festival in only its second year of production.  After taking a tour of Sun King and tasting several of its brews following the 2012 Beer Bloggers Conference, it's clear they're not resting on their laurels either.
In 2010, one year after they started brewing, Sun King reached 5,000 bbls of production.  This year, they expect to produce around  16,000 bbls.  More 90 bbl fermenters are on the way and Sun King expects to double production in the next year or so.   Lest you think the rapid expansion is at the expense of quality, remember those eight medals.  They won three more at the recent 2012 World Beer Cup in San Diego.
And hey, I got to try the stuff.
Sun King generously opened their doors to beer bloggers following the Conference wrap up session and we grabbed a short ride over to take in some lunch, plenty of tastings and a tour of the facilities. Sun King is the collaborative project of brewers Dave Colt and Clay Robinson (and partners Omar Robinson and Andy Fagg). It was the first full scale production brewery to open in Indianapolis since 1948.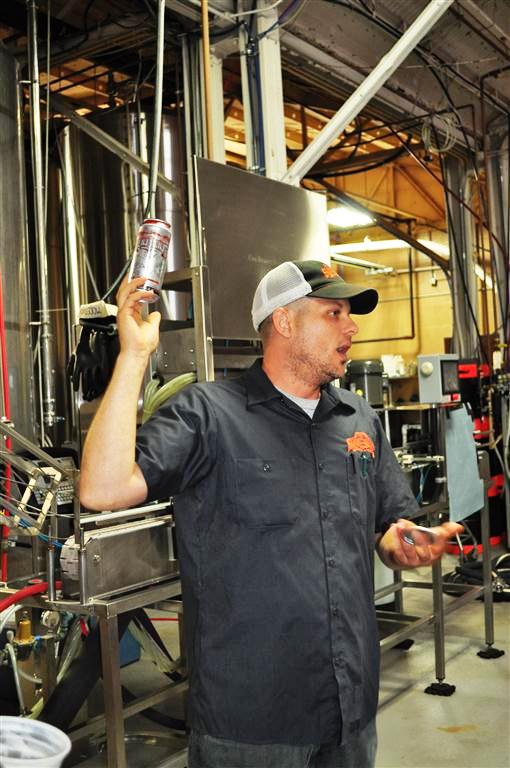 Our superb tour guide Owen, who's something of the HR guy at Sun King but could easily convince you he was an owner/brewer, showed us all aspects of the brewery's operations.  As is common with brewery tours, we started with the grain area before moving to the mash tuns, fermenters and the like.  Sun King cans their beers and the canning line is pretty cool.  Given the expansion plans it seems an additional canning line might be in order as well.
After checking out the cold storage room we headed over to a separate building housing the sour and barrel aged beers.  The sours are kept in a room at about 78 degrees where they're undergoing secondary fermentation in the barrels.   The barrel aged beers are held in a separate cooler at around 55 degrees.  In each case, barrels from different sources are matched to the appropriate style of beer – lighter styles like, say, a maibock, get a less intense bourbon barrel than an imperial stout.
Back in the brewery we sampled a number of Sun King's beers including Wee Mac (Scottish style brown), Sunlight Cream Ale, Osiris Pale Ale, Cream Dream V (a hopped up Cream Ale), Popcorn Pilsner (yes, it is brewed with popcorn, a first for me), and their 3rd Anniversary beer, a hoppy black lager, my favorite of this very good bunch.  Toward the end of our stay Sun King was gracious enough to break out some Mai Pappy, a maibock aged in Pappy Van Winkle bourbon barrels.  Mmmm . . . goodness.
Here are more scenes from the tour and festivities: