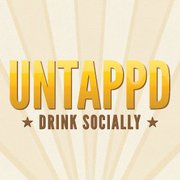 We're Untapped fans, a social app for craft beer fans to log and rate beers, connect with friends and get beer recommendations.  Users can earn badges for checking in certain combinations of beers, venues and dates. It's fun, useful and definitely social.
Untappd has teamed up with Missoula Craft Beer Week to create a special badge to celebrate the week.  To earn it, Untapped users need to check in one beer at any one of the following participating locations:
Big Sky Brewing Company

Draught Works

Kettlehouse

Kettlehouse Brewing Company North

Bayern Brewing Tasting Room

Caras Park

Tamarack Brewing Company Alehouse And Grill

Flathead Lake Brewing Company of Missoula

The Rhino

The Old Post

The Wilma Theater

Caffe Dolce

Iron Horse Brew Pub
Remember to check in the location when you check in the beer to earn the badge. Not an Untappd user? Signup is quick and it's easy to use.  Once there, become friends with Growler Fills here.