You know the old joke, "You can't drink all day if you don't start in the morning"? Well, thanks to my prior commitment running the 40th Riverbank Run* we didn't quite beat the noon hour, but nevertheless proved beer and brunch are a great combination.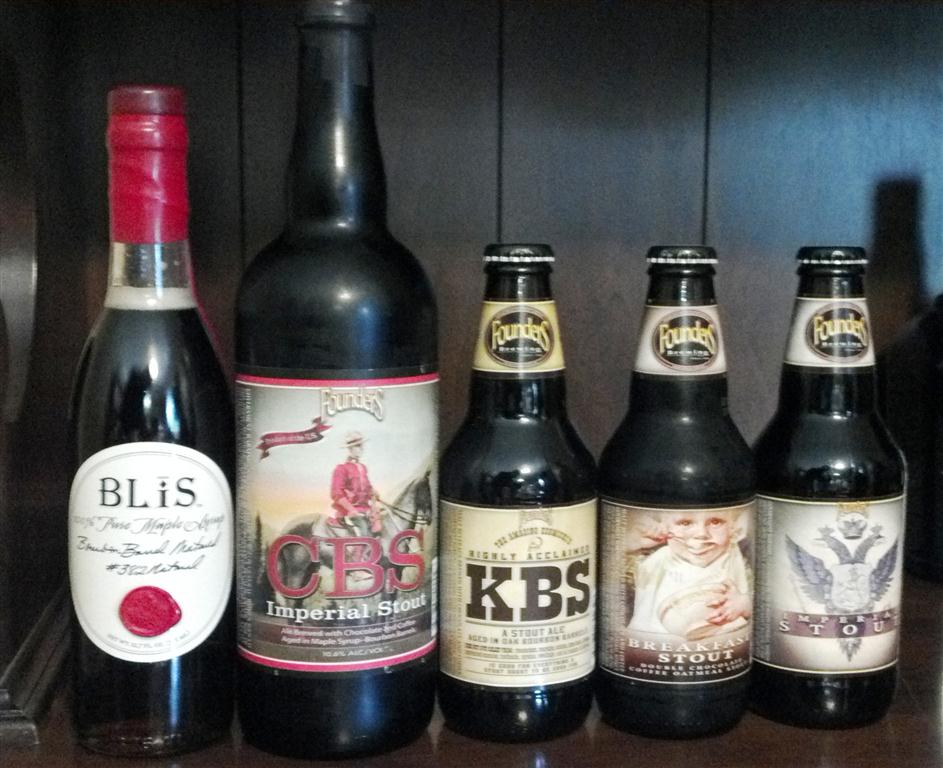 Ryan hosted this tasting of breakfast stouts and the food and beer were plentiful. The brunch started off with chicken and waffles, Idaho surprises, deviled eggs, sage sausage and much more along with one heck of a specialty syrup. Once well fed, we shared the beers around the table: Founders Canadian Breakfast Stout, Founders Kentucky Breakfast Stout, Founders Breakfast Stout and Founders Imperial Stout.  Founders is a Michigan brewery whose Canadian Breakfast Stout – an imperial stout brewed with chocolate and coffee and aged in maple syrup bourbon barrels – has grown to mythical status.
Did the Canadian Breakfast Stout live up to the hype?  For the most part, yes.  I hedge only because the coffee seems to have faded a bit and I'm curious to try it at the brewery some day for comparison. Otherwise, it's a wonderfully complex imperial stout with lots of dark and milk chocolate flavors and unmistakeable notes of bourbon and vanilla.  The Kentucky Breakfast Stout (also brewed with chocolate and coffee, but aged in oak bourbon barrels) also impressed and came on hotter and with higher bitterness.
That specialty syrup I mentioned has a cool connection to all of this.  Made by BLiS, makers of natural hand crafted gourmet foods, the 100% Grade A dark amber pure maple syrup is aged in specially selected 12-18 year old single barrel bourbon casks. According to BLiS, "the barrels are carefully agitated until the honey, charred oak, vanilla and spice notes are imparted into the maple syrup syrup for a pure, one-of-a-kind natural flavor."  Once BLiS is done with the barrels, Founders uses them to age the Canadian Breakfast Stout. Cool, huh?  Absolutely delicious, too.
________________________
* Placed 67th out of 1097, thank you very much.  Not bad for the ole' beer runner.