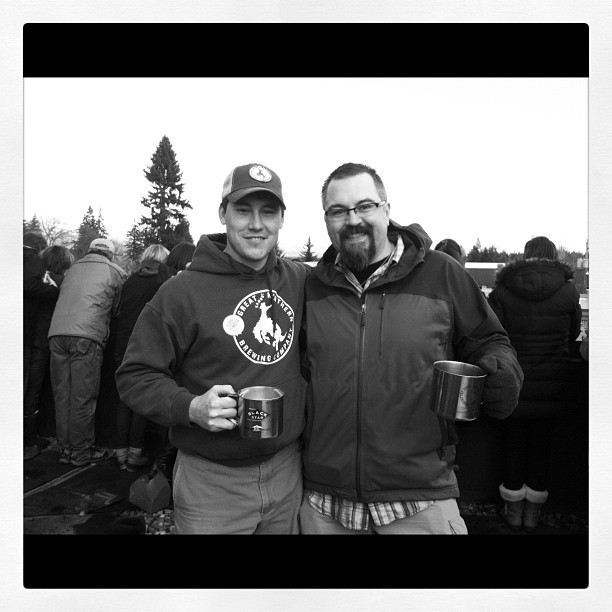 The second annual Black Beer Barter, held February 4, was one for the beer-stained record books. As you can see in the above picture of me (on right) standing next to Marcus Duffey, General Manager of the Great Northern Brewery, I was right in the middle of it.
The weekend kicked off in style with the annual Whitefish Winter Carnival (one of the best in the country, mind you), and it was followed up by the Black Star Beer Barter, and it ended with the 17th Anniversary Party of the Great Northern Brewery.
Contestants from all over were treated to a spectacular show of creativity, all for the sake of 52 cases of Black Star Double-Hopped Golden Lager.
"We were completely blown away by the level of talent and creativity at this year's Barter," says Duffey. "We felt that several contestants truly bartered what was worth a year's supply of Black Star beer, so we had to do it."
Personal highlights for me were watching the pro skateboarders, Al Partanen and David Gravette, "play around" in the brewery before the event doing some insane jumps. The pair also performed for the crowd at the Barter. Another highlight was to meet and chat with Minott Wessinger, founder of Black Star and grandson of Henry Weinhard. My other favorite moment of the Black Star Beer Barter was watching fire dancer Troy Nooroa, from the Cook Islands, perform this dazzling routine:
What also set this year apart was the fact that Black Star found not just one winner, but three. The above-mentioned fire dancer, Troy Nooroa, and the pro skateboarders walked away with 52 cases of beer. Nooroa promised to perform at future Black Star events. The third winner was Parker Beeson, who traded away his 1970 Volkswagon van, which he dubbed "the ultimate party bus!"
An honorable mention went to Peggy Miller, a nine-year breast cancer survivor, who pledged to walk 52 laps in the upcoming Relay for Life. The judges were so moved by her story that Black Star will donate $5,000 to the American Cancer Society on her behalf, in lieu of a year's supply of beer.
It seems that the Black Star Beer Barter is on its way to becoming a long-standing tradition in Whitefish. So here's a preliminary toast to the next round of creative folks who bring their goods and talents to Whitefish in hopes of bringing home 52 cases of beer!