I don't how many chocolate beers exist in this craft beer world, but for a few hours Saturday night, Missoula, MT was the capital of them all. Months in the making, our local loose-knit tasting group managed to assemble seventeen chocolate beers for a Valentine's Day themed celebration of craft beer. From chocolate stouts to chocolate abbey style ales, there was a style for every taste – as long as you like chocolate. Here was the lineup:
Black Chocolate Stout, Brooklyn Brewery
Sanders Chocolate Stout, Detroit Beer Co.
Chocolate Stout, Rogue Ales
Double Chocolate Stout, Rogue Ales
Cherry Chocolate Beer, O'Fallon Brewery
Cherry Chocolate Stout, Stone/Troegs/Fields/Sheppard Collaboration
Double Chocolate Stout, Fort Collins Brewery
Thumbprint Chocolate Abbey, New Glarus Brewing Co.
Sexual Chocolate, Foothills Brewing Co.
Chocolate Indulgence, Brewery Ommegang
Choklat, Southern Tier Brewing Co.
Coco Mole, New Belgium Brewing Co.
Vixen Chocolate Chili Bock, Boston Beer Co. 
Chocolate Oak Aged Yeti, Great Divide Brewing Co. 
Box of Chocolate, Charleville Vineyards and Microbrewery
Black Mocha Stout, Highland Brewing Co. 
Moo-Hoo Chocolate Milk Stout, Terrapin Beer Co.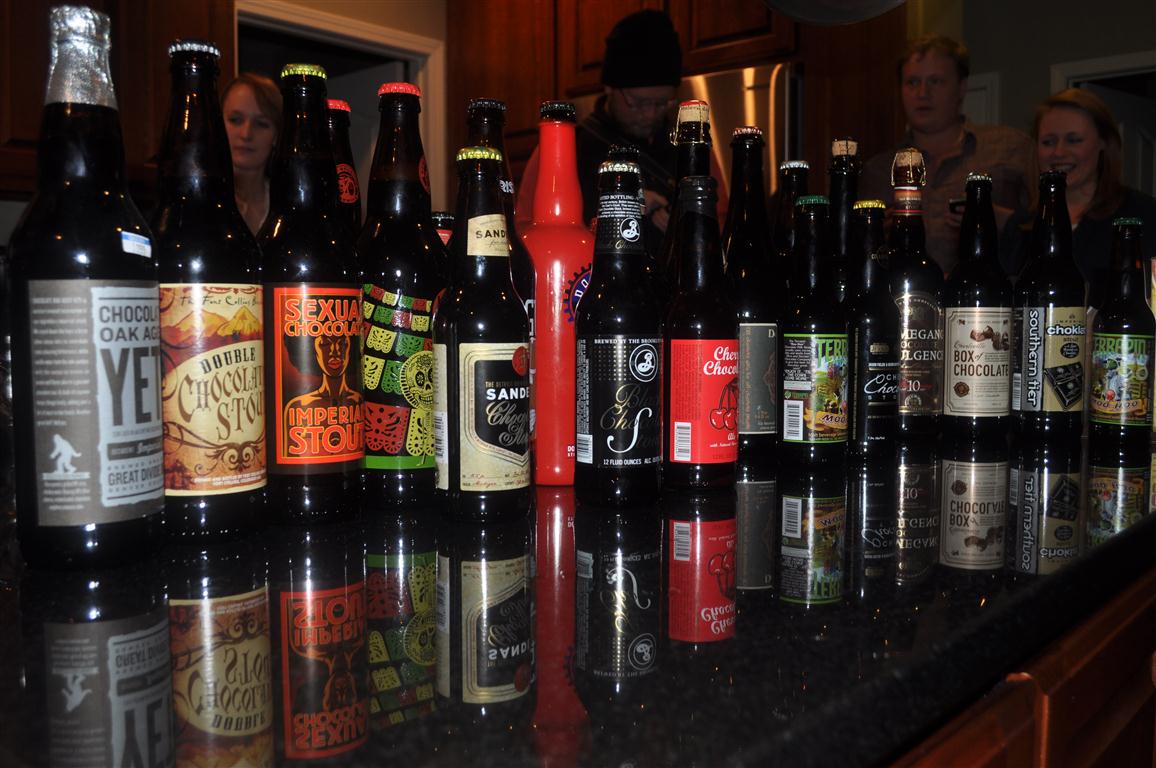 Dogfish Head's Theobroma was also on the list, but we decided to save it for a future chile beer tasting. We also managed to open up and enjoy a Savor Flowers (Dogfish Head/Sam Adams collaboration) which is not a chocolate beer, but was a pleasant addition to the mix with its herbal richness and perfume-like rose water aroma.
We did not take an official poll, but the buzz around the room suggests Box of Chocolate from Charleville Vineyards and Microbrewery was the runaway favorite of the night. Box of Chocolate is a Belgian Style Quad with exceptionally well blended chocolate flavors sitting on top of some fruit/spice notes you expect to find in a quad.  Despite being 10.5% abv, it remains medium-bodied and avoids being sweet, syrupy and alcoholic, though you'd better be a fan of chocolate. Chocolate Indulgence from Brewery Ommegang and Double Chocolate Stout from Rogue Ales were also big hits.  Sexual Chocolate, while good, did not quite live up to the hype.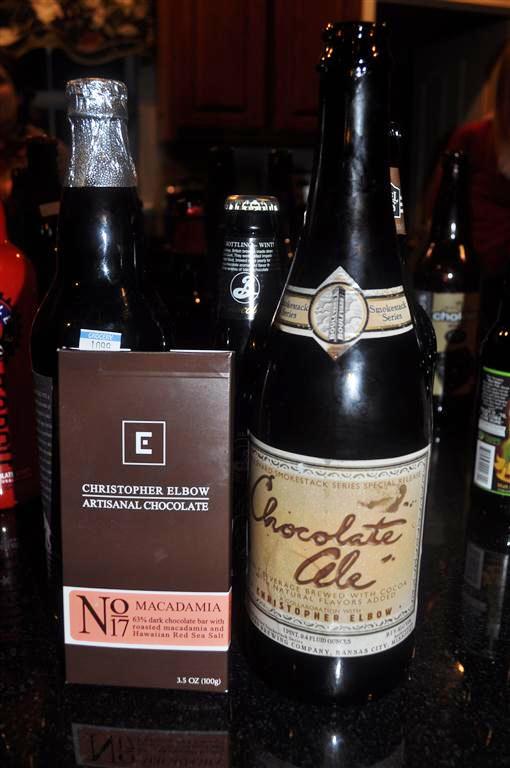 Along with the bottle of Boulevard Chocolate Ale,  Ryan brought along a bar of macadamia nut dark chocolate (with Hawaiian red sea salts) from Christoper Elbow Artisanal Chocolates, the same chocolatier who provides the chocolate for the beer.  Though the chocolate was not the same variety, its pairing with the beer could not have been more perfect. The flavors blended together as if they were one and forever ended any question whether beer and chocolate should co-exist. 
Here's hoping your valentine's day includes plenty of love for craft beer.