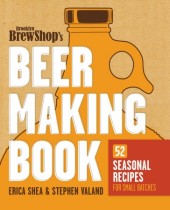 I got word yesterday that the Brooklyn Brew Shop's Beer Making Book is ready to launch on November 1, 2011.  Unlike most homebrew recipe books, this collection by Erica Shea and Stephen Valand will take your homebrewing adventures far beyond the norm, one gallon at a time.
One gallon you say?  The traditional homebrew batch is five gallons, or enough for two cases of bottles or one nice soda keg.  Yet, that's a lot of beer and makes wild experimentation a dicey proposition. One gallon batches aren't a new thing, but Erica and Stephen looked for a way "to brew on a smaller scale to make it more like cooking."  It reduced the time for brewing, created less mess, made it easier to handle and, with three stove burners, allowed them to make three different batches at the same time.
These guys have spent the past three years at the Brooklyn Flea Market teaching people how to brew beer while selling small batch equipment kits and ingredient mixes.  Their approach and success drew local, then national media attention.  They gave a presentation at the 2011 Beer Bloggers Conference that was as witty, smart and informative as it was humorous and entertaining.
The book has equipment lists and instructions for the beginner with plenty of tips and unique recipes for the veteran brewer.  Like their Apple Crisp Ale complete with apples and cinnamon.  The recipies are also scaled for 5 gallon batches if you want to go old-school.