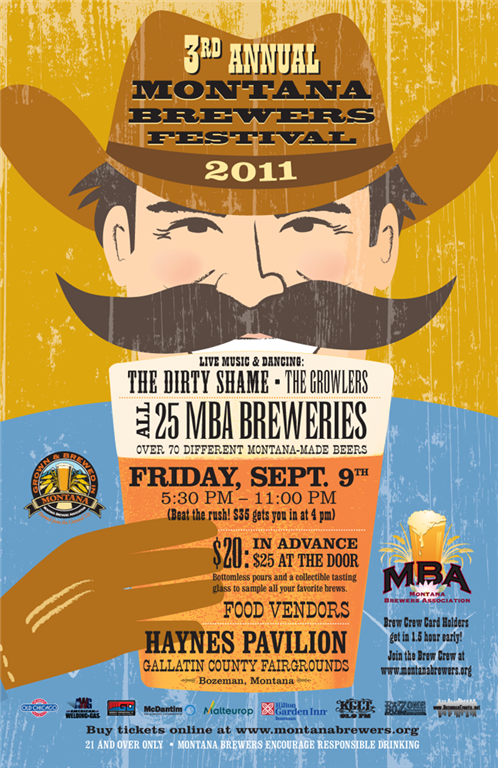 The 3rd Annual Montana Brewers Festival takes place this Friday, September 9 at the Haynes Pavilion in Bozman with more than 70+ Montana beers from 20+ Montana breweries.  We reached out to some of the brewers to find out more about the beer they plan to present.  (We're still waiting to hear back from some of them, hint hint. And if we didn't contact you, send us the scoop on your great beers.  Thirsty minds want to know.)
First up in our preview is Bitter Root Brewing Co. from Hamilton.  Bitter Root originally planned on bringing their new seasonal, Last Cast Black IPA.  Sadly, it won't quite be ready in time for the Festival, but its replacement sounds mighty fine, too:  Imperial IPA, originally known as the Power of 10 IPA.
Bitter Root's Imperial IPA was first called the Power of 10 IPA because it was their 1,000th brew, had 100 IBUs and 10% abv.  Apparently it gained quite a following with regular visitors to the tap room and now you'll have a chance to try it in Bozeman, too. They've made a few modifications to the original batch, but here are the current ingredients:
Malts: Montana Metcalf 2-Row; ESB; Crystal 15; Crystal 30; Vienna; Honey; Chocolate and Brown.
Hops: Magnum, Chinook, and CTZ with a blend of Simcoe and Chinook for dry hopping. 
According to Bitter Root, their Imperial IPA is a hybrid between a Northwest imperial IPA and an English IPA. Aromas are fruity, with grapefruit and a mild pine resin that present first along with a rich malt character coming through in the nose. As for flavors, the flavoring hops start up front on the palate, followed by a creamy, rich, toffee and caramel malt body and finishing with a nice, warming alcohol heat to make the beer very well balanced. Count me in on that one. As for the Last Cast Black IPA, it should be available in the Bitter Root tap room next week. It's also being bottled and should be out in stores soon, too. We'll bring you more information on it once we've had a chance to try it.
Tomorrow's preview: Blackfoot River Brewing Co.'s Double Black Diamond Mocha Stout and more!