The first official day of the 2011 Beer Bloggers Conference kicked off with some entertaining panel discussions. Julia Herz from the Brewers Association and CraftBeer.com started us off with a craft beer industry update. Beer writing legends Fred Eckhardt and John Foyston kept us laughing with great war stories, and Erica and Stephen of Brooklyn Beer Shop proved just about any ingredient can be used to brew fun beer.
The fun kicked up a notch when 90 beer bloggers and industry folks loaded up on two buses for a trip out to the Goschie hop farm.  Thanks to a major traffic jam, the 45 minute ride turned into a 2.5 hour crawl. Frankly, we didn't care. This is a beer bloggers conference after all.  There's beer, and we were treated to samples from four area breweries.  First, Ben, the head brewer from Breakside Brewing Co. poured a black saison, introducing me to yet another interesting new combination.  Next, Eric from Deschutes poured their newly released belgian quad, The Stoic.  Lucky Labrador's brewer Ben shared some Black Sheep CDA.  As if we weren't spoiled enough, head brewer Ben (that's three Bens, if you're counting) from Hopworks Urban Brewery poured Galactic Imperial Red.
Sometimes you just have great timing.  We stepped off the buses at the hop farm into a veritable bath of hop aroma.  The hop harvest had begun just a day earlier and tractor loads of hops were arriving at the processing barn.  For a bunch of beer geeks, it doesn't get any better until the stuff is turned into liquid gold.  The Oregon Brewers Guild sponsored a picnic dinner spread out under the shade trees in the middle of the hop festivities.  Standing Stone Brewing's Nobel Stout and Double Mountain's Vaporizer were on tap and plenty of HUB, Ninkasi, and many other brews filled the coolers. For dessert? What else, hop brownies. Geek out.
Back at the hotel, we stepped into the Night of Many Bottles, a smorgasbord of beers from near and far brought by all of us to share with our new friends. My offering, Flathead Brewing Co.'s Imperial Pale Ale, represented Montana well.  Here's a few more pics from the day.
Craig Hendry of Mississippi's Raise Your Pints takes in the hops.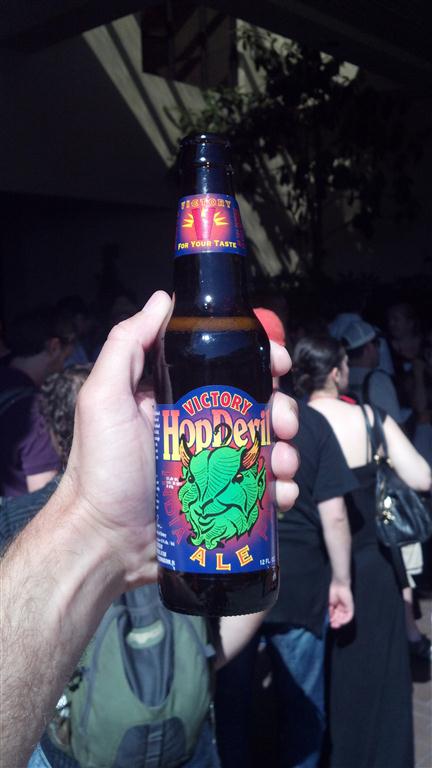 Thanks to Victory Brewing for sharing the love with some Hop Devil