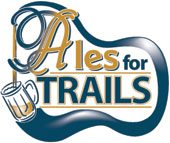 In 10 years, BikeNet's Ales for Trails brewfest has generated more than $200,000 to support trails in Billings Montana, contributing to the construction of 35 miles of multi-use trails.  Billed as the "Best Party in Billings," Ales for Trails annually brings together 2,000 to 3,000 craft beer fans for  food, beer, wine, music and a great cause.
This year's Ales for Trails Brewfest takes place Friday, September 23, 2011 from 5 pm to 10 pm at Dehler Park in Downtown Billings.  Tickets are $35 the day of the event or $30 in advance. A ticket gets you into the event and an unlimited number of samples from the 40 or so craft beers (please sample responsibly!). If you're a non-drinker, you can get in and enjoy the music and fun for $10. The advance sale tickets are available in Billings at The Base Camp, The Bike Shop, The Spoke Shop and Montana Cycling and Ski until noon on Friday, Sept. 23rd.
Attendees can vote for their favorite beer in the Pedal Awards.  Billings' Angry Hanks Brewery's has taken the top award two years in a row and will be back to see if they can do it again.  Based on my experience, they've got an excellent chance of a three-peat. 
According to BikeNet, they're a nonprofit, grass roots organization that advocates for trail education, acquisition and development of a Yellowstone County-wide trail system that encourages safety, an alternate transportation mode, and a healthy lifestyle.
For more information contact Robbie Carpenter, coordinator for Ales for Trails at alesfortrails@gmail.com, 406-672-8066, or check out the Ales for Trails' Facebook page or the BikeNet website.