For every one of my many birthdays, I've had some form of chocolate for desert. Most often, that's been a chocolate cake with chocolate icing, though there was a stretch of chocolate pies in there, too.  It's a good streak to have.  According to Mom, many of those early cakes had a train on top, too.  Now, its far more likely to be paired with a great craft brew.
What goes great with chocolate cake? A great imperial stout, coffee porter, barrel oak aged stout, or any number of roasted malt featured brews. Think of it as a adult coffee.  This year's cake was a decadent chocolate turtle layer cake with dark chocolate frosting from Bernice's Bakery in Missoula.  Bernice's knows cakes and just about every other great pastry under the sun.  Probably my favorite pairing with any chocolate is Deschutes' The Abyss, an incredible imperial stout brewed with licorice and molasses and aged in French oak and oak bourbon barrels. For some reason, though, I couldn't quite pull out one of my remaining bottles for the celebration.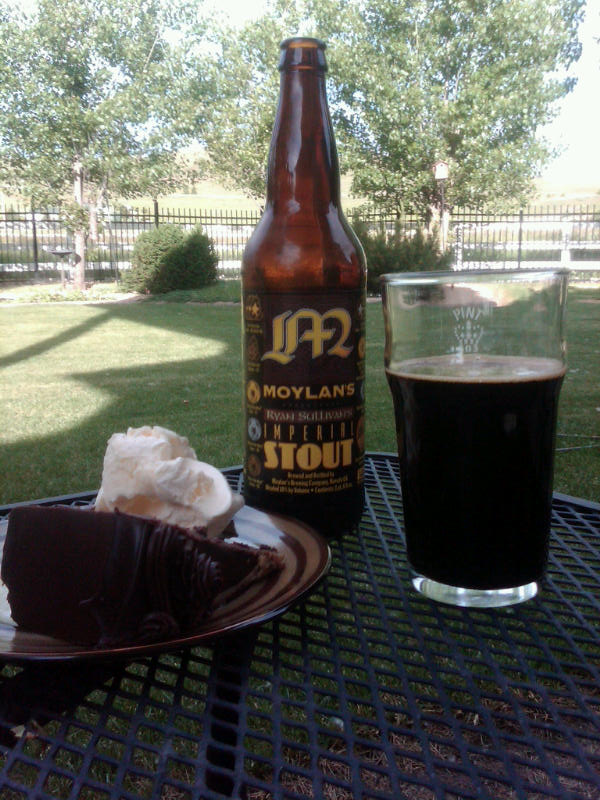 Instead, I reached for a bottle of Moylan's Russian Imperial Stout I'd been waiting to try.  The beer is solid black with a brown head the color of the caramel running through the cake. Aromas of roasted malt dominate with a touch of chocolate and milky sweetness.  The taste is thick and moderately robust with flavors of milk chocolate, coffee, and creamy smokieness.  Hops are never present except for balance and the brew never gets too sweet.  It's a solid effort as a Russian Imperial Stout, but a real winner when paired with chocolate cake. Despite being 10% abv, the alcohol is never really present in the flavor profile.
Pretty sweet t-shirt, eh?  Get yours here.