There are many styles of growlers out in the beer world these days, from the traditional glass, half gallon growler, to plastic and stainless steel containers, ceramic jugs and party pigs.  The Montana Legislature even made it clear this session we can have growler's filled anywhere beer is served from a tap.  Now, Flathead Lake Brewing Co. is launching an innovative new growler they're calling the "Tackle Box."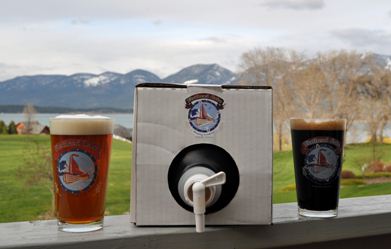 The Tackle Box is a one gallon, unbreakable, plastic, recyclable growler in a box.  There's a tap on the front and the growler shrinks as beer is dispensed, similar to the boxes of wine that have been on the shelves for many years.  But don't throw these boxes away. Once you've enjoyed the beer, you can return them to Flathead for a refill.  If kept cold, the beer is expected to stay fresh for up to 2 weeks.  That's assuming you're capable of letting it sit there that long.  I'm not.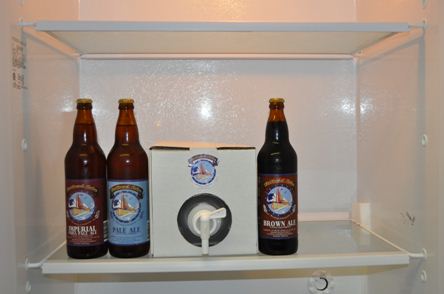 Flathead Lake Brewing Co. is having a Tackle Box launch party on Sunday, May 15, at the brewery in Woods Bay along with some "hints" of their new food menu coming later this summer.  (Incidentally, summer hours at the brewery begin May 30th – 12 p.m. to 8 p.m., seven days a week.)  Flathead Lake's pub house in Missoula is having a launch party on Monday, May 16th, coinciding with the start of American Craft Beer Week.
The Tackle Boxes look perfect for a picnic, party, trip to the lake, or for hanging out in the fridge.  Well, the beer can hang out in the fridge, not me. (Pictures courtesy of Flathead Lake Brewing Co.)