For not being a trip focused on beer, we certainly did end up doing a fair job of checking out the San Diego beer scene during our warm weather visit in early March.  So far, we've written about our "chain conundrum," The Ritual Tavern, The Local Eatery & Drinking Hole, and The Neighborhood.  In this final write up, we'll take a whirlwind tour of a few of the other beers and places we visited. While those living outside Montana are often surprised at the extent of Montana's beer culture and fine craft breweries, we were similarly surprised at the scope of San Diego thriving beer culture.  They're both well worth exploring.
Our introduction – purely by chance – was a relatively new brewery and restaurant called The Beer Company at 602 Broadway.  We stopped in for an afternoon brew, finding the brick, wood, and nearby brewery equipment to create a nice atmosphere.  It was quiet on an early Thursday, but we're guessing the place gets loud and busy in the evenings with the ample sports tuned televisions, traditional bar food, brick oven pizza and 10 taps of house brewed beer. We tried samples of their Elimination IPA – very floral aroma to go along with citrus flavors  – and the double IPA before settling on a Pot Kettle Black Porter (7% abv).  It was medium bodied with predominately chocolate flavors, a touch of creamy sweetness, a bit of coffee in the aftertaste and a fairly dry finish.  We thought the beers had potential, but lacked a bit of depth.
The Firehouse Brewing Company is one you might miss, despite the huge sign sitting on top of it (10306 San Diego Mission Road).  Given the terrain, it's much easier to see from quite a distance out.   Perched on a hill with a view of Qualcomm Stadium (San Diego Chargers) the brewery had six beers on tap with lots of it available in six-packs all around the area. The tap room has plenty of outdoor space and some indoor dart lanes to pass some time while enjoying pints.  The Brown Ale was reddish brown, medium-light bodied with a hind of smoke, a nice caramel malt base and some nut flavors.  A bit thin, but appropriate for the style and quite sessionable.  The IPA was very thin and entirely unremarkable.
With a name like San Diego Brewing Company you might picture some large, brick, historic building or perhaps a mission style beauty. Instead, you'll find a sports bar in a nondescript mini-mall off a busy street (10450 Friars Road).   Think sports bar and you already know the menu and the atmosphere.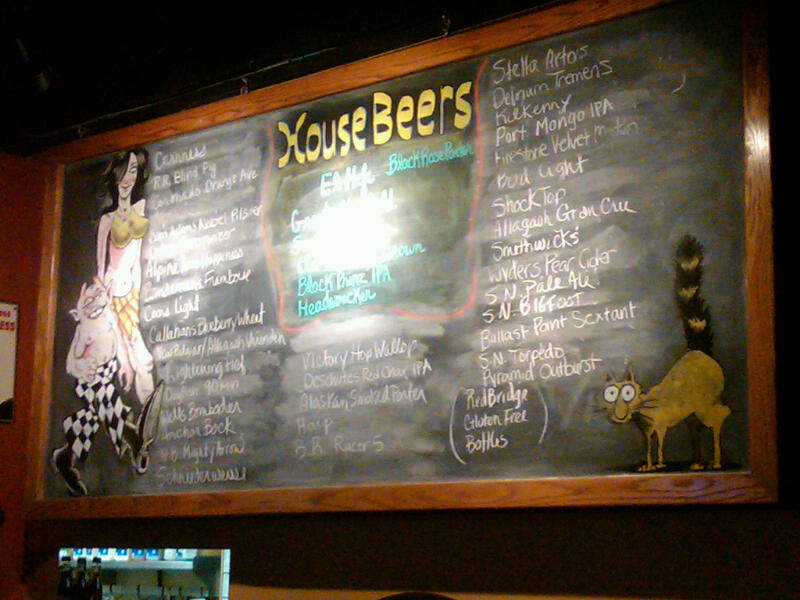 What will surprise you, though, are the almost 50 taps featuring 7 house beers and 40 plus guest beers with a nice variety of styles.  We immediately picked their Black Prinz IPA since that has quickly become one of our favorite styles of beer.  It did not disappoint. It poured a solid black with an off white head.   The sharp initial bitterness of the hops transitioned into a nice charcoal roasted malt flavor that balanced out in the finish. It was a very good beer and we wished we'd been in a position to have a second pint.
Coronado Brewing Co. sits near the harbor side of Coronado and has the look and feel of a typical brewpub (170 Orange Ave., Coronado).  There's not much outdoor seating, but we were lucky to grab the only open one on a warm day with beautiful blue skies. I don't have complete notes of our experience, but remember a few things.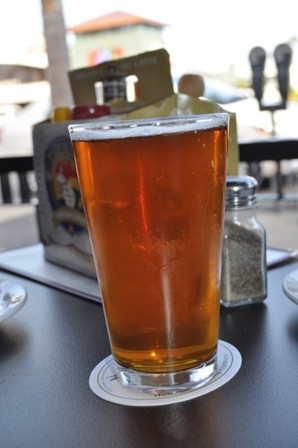 First, the well meaning, but . . hmm . . . what's the word . . .presumptive(?) . . . waiter tried to warn us off from starting with their Idiot IPA, an imperial IPA with a pretty good hop punch (8.5%).  It was entertaining to see the look Cheryl shot him when he suggested she start with a less intense brew.  I was more in the mood for their Nutter Brown Ale.  Both beers were good, if not outstanding, and paired very well with an excellent shrimp quesadilla.
Our favorite beers of the trip belonged to AleSmith Brewing Co. We weren't able to get to their tasting room which (open Thursday through Saturdays at 9368 Cabot Drive), but their beer is available on many taps throughout the area.  It is also distributed in many places across the U.S., though (sigh) not Montana.  Of their many beers, we tried the Speedway Stout, My Bloody Valentine, and IPA.  All had a depth, complexity, and creativity that provided beers with a "wow" factor.  Perfect to ponder and enjoy. 
AleSmith's Speedway Stout has won a bunch of awards and it's not hard to taste why. This huge, imperial stout (12% abv) is solid black with a tan head.  The rich chocolate aroma conjures up images of a triple layer dark chocolate cake. Rich dark and mil chocolate flavors follow on a thick, full, creamy body. A nice amount of hop bitterness keep it from getting too sweet.  There's a touch of coffee in the finish along with a bit of alcohol.  It is rich, deep and excellent. Now, if I can just get some more of it up here in Montana  . . . .
As for our next trip, we kept hearing about a place called Downtown Johnny Brown's which is supposed to have a great tap selection, but caters to the local business crowd during lunch and happy hour.  Let's just say its location isn't quite as pleasant once the sun goes down, but we're anxious to try it out next time. Toronado is on the list, too. We've already enjoyed the San Francisco location. We're also curious to try some more Green Flash Brewing Co. offerings (really enjoyed their West Coast IPA), Karl Strauss Brewing Co. (enjoyed the Red Trolley Ale and its caramel malts), and The Lost Abbey (excellent Lost and Found Abbey Ale). And that's still just scratching the surface.
A great place to start your exploration is the San Diego Brewers Guild website.