While enjoying a couple of pints at The Rhino in Missoula on new years eve, we came up with the idea of handing out a few 2010 Beer Awards to mark another great year in craft brewing. One of the primary purposes of this blog is to generate discussion and interest in craft beer. Whether ranking college football teams, handicapping elections, or choosing Oscar nominees, there's no quicker way to ignite discussion than to create a subjective list. So, with pints in hand, we bring you the first annual Growler Fills Beer Awards.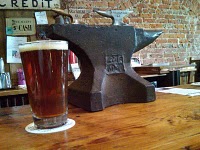 Categories: When trying to pick a "beer of the year" we immediately recognized the almost impossible task of picking just one.  There's far too many worthy beers out there these days and picking just one didn't seem like much fun anyway. We decided to create three main categories: Montana Year-Round Beer of the Year, Montana Seasonal Beer of the Year and Non-Montana Beer of the Year.  A year-round beer is one you expect to find bottled, canned, or on tap at the brewery a majority of the year.  A seasonal beer might be a one-and-done, a regularly recurring limited release, or one that appears multiple times at odd intervals. For non-Montana beers we decided to limit it to beers we were able to find for purchase in Montana. We threw in some other fun categories and will happily accept other suggestions. To help spread the wealth, I invited Cheryl to name her own winners.
Criteria: There really isn't any. Call it largely a gut reaction after looking back across the beers that crossed our path in 2010. We took into consideration which beers we rushed to stock up on and which ones we routinely looked for, craved, or ordered up when out and about. Since taste is fickle and ever changing, we tried not to let the beer of the moment carry undue weight. There's no science or statistics involved and the choices were not limited to beers featured in Growler Fills.
Montana Year-Round Beer of the Year
Alan:   Single Malt IPA, Blackfoot River Brewing Co. I think I've turned more people on to this beer than any other.  From the domestic drinkers to the craft brew lovers, this beautifully balanced beer with big hop aroma and delicious hop flavor has captured the taste buds of them all.  It is crisp and refreshing, rich without being over the top, and simple, yet full of flavor (6.9% abv).  The blend of simcoe and cascade hops create a full hop flavor and a bitterness level that perfectly compliments the underlying Maris Otter malt, creating a beer I reach for often. It is Blackfoot's best selling beer, and that's saying a lot given their other excellent beers like North Fork Organic Porter, Double Black Diamond Extreme Stout and Tartanic Scottish Ale.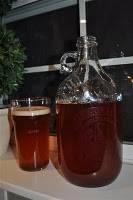 Cheryl:   IPA2, Flathead Lake Brewing Company. Frankly, we could have flipped a coin on these two beers and been happy selecting either one as our beer of the year.  This big beer (8.9% abv) is full of rich malt and and equally rich hop flavors and we recently reviewed it here. Fortunately, the newly opened Flathead Lake Brewing Co. of Missoula makes this beer and their other great beers that much more accessible.
Also considered and very worthy (a/k/a Honorable Mention): Hat Trick Hop IPA, Tamarack Brewing Co.; Espresso Porter, Flathead Lake Brewing Co.; Pulaski Porter, Blacksmith Brewing Co.
Montana Seasonal Beer of the Year
Alan:   Black Iron Black IPA, Blacksmith Brewing Co. There's no hotter trend in beer right now than Black IPAs and there's an equal amount of controversy over what to call them.  The three main choices are Black IPA, American-Style India Black Ale and Cascadian Dark Ale. Black IPA creates an odd conflict thanks to the dichotomy of calling a PALE ale "black."   The Brewers Association official designation as an American-Style India Black Ale hasn't caught on in the least. Cascadian Dark Ale has raised the ire of brewers and beer drinkers outside the pacific northwest who argue the name is an attempt to claim credit for a style arguably originating in Vermont.
Whatever you call it, Blacksmith's Black Iron Black IPA is an excellent example of this refreshingly new style and we're hoping to see it back on tap soon.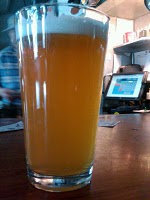 Cheryl:  Garden City Pale Ale, Kettlehouse Brewing Co. We're not the only ones who thought highly of this fresh hop pale ale, but we almost missed it. From the moment Kettlehouse put this on tap at the Myrtle Street location it was flying out the door. We asked for a sample almost as an afterthought before heading out the door. One sip and we immediately ordered full pints.  Then a growler to go. Then called a friend to pick up a second growler.  It was that good and it was gone fast. Made with locally grown hops of generally unknown variety, this fresh hop ale will never be entirely recreated. Perhaps next year's version will be even better.
Also considered and very worthy (a/k/a Honorable Mention): Simcoe Pale Ale, Blacksmith Brewing Co.; Mica Maibock, Quarry Brewing; Bobo's Porter, Big Sky Brewing Co.; Face Plant, Bayern Brewing Co.
Non-Montana Beer of the Year
Alan:  Chatoe Rogue Dirtoir Black Lager, Rogue Ales, Newport, OR.  This was the toughest choice for me.  I very nearly picked Alaskan Brewing's Double Black IPA, but I never found it in Montana and that would violate my self-imposed rule.  A couple of Sierra Nevada's 30th Anniversary Ales could easily land here.  In the end, I picked Dirtoir Black Lager, a wonderfully interesting schwarzbier.  The molasses aromas are followed by coffee, toffee and molasses flavors in a rich, earthy brew that is chewy and smooth. My only regret is that I only had one bottle.
Cheryl:  Hop in the Dark Cascadian Dark Ale, Deschutes Brewery, Bend, OR. We liked this beer so much that we ended up buying a couple of cases worth and even that didn't last long enough.  This new Bond Street Series brew from Deschutes is a real winner, expertly blending earthy, smooth, roasted malts with a cascade hop focused IPA. This one definitely needs to come back in 2011. 
Also considered and very worthy (a/k/a Honorable Mention): Espresso Oak Aged Yeti Imperial Stout, Great Divide Brewing Co.; Mojo Risin' Double IPA, Boulder Beer Co.; Full Sail Imperial Stout, Full Sail Brewing Co.; and many others. It was a great year for craft beer.
Most "Out There" Beer Tasted This Year
Without a doubt, this award goes to Capsicum Stout, Shooting Creek Farm Brewery, Floyd, VA. This stout brewed with habanero peppers was a fun beer to try. The chocolate-focused stout base doesn't do much to hide the increasingly hot chili peppers as you make your way through the pint. It is not a combination I want to repeat, but I've seen more than a handful of brewers adding chili peppers to some experimental brews over the last year.
Goof of the Year
Big Arm Strong Ale, Tamarack Brewing Co. I'm guessing you'll never see this beer again, but this is no dig at Tamarack. We love the place and regularly look forward to getting to Tamarack whenever we head up to Flathead Lake.  Tamarack's IPA (shown here) is top-notch and we like it best among their regular line up.  It's the IPA that opened Cheryl's eyes up to the IPA world and made IPAs accessible.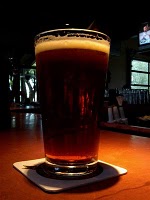 On one of our trips up to Flathead Lake this summer we stopped in at Tamarack on a Friday evening anxious to get our Tamarack IPA fix.  One sip and I knew there was something wrong. The beer was the right color, but had a bit of a sour note to it. Convinced one of the excellent bartenders had poured the wrong beer, I asked for a replacement. Same thing. Bad beer line? Something wrong with the keg? We had the bartender try a taste and then watched over the next hour as bartenders, servers and others each took turns sampling the beer – and the resulting looks of curiosity on their faces.
We later learned that the keg had been switched over shortly before we arrived to the first keg of a newly brewed batch of IPA. As it turns out, Tamarack had inadvertently used the wrong yeast which led to an entirely different flavor in the beer. What to do?  Change the name from Tamarack IPA to Big Arm Strong Ale and voila, a new seasonal on tap.