'Tis the season for big bold beers and plenty of of holiday spices and just about everything in between. One look in the fridge reveals a nice mixture of barleywines, imperial stouts and a few styles I'm not quite sure how to identify. The tough part is figuring out how to enjoy most of them without . . . um . . . overindulging and waking up with a bit less cheer than the night before.
Fortunately, the holidays are all about sharing and these big beers and perfect for that. For Day 1 of our 12 Days of Christmas Cheer we thought we'd keep it a little lighter and chose one with a holiday theme simply because it seemed like the right thing to do. Oregon's Rogue Ales brings us Santa's Private Reserve Ale each holiday season and we popped open a 22 oz bottle to enjoy the start of a short week.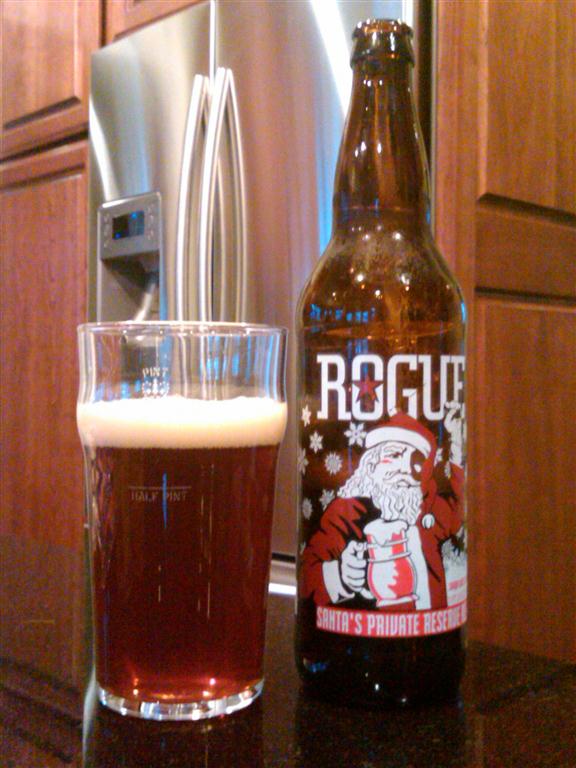 This brew is a nice, rich copper color with a thick biscuit colored head.  The aroma is of a slightly sweet, light malt.  The initial flavor is of grain malt, followed quickly by a fairly sharp hop bite with pine and resin hop flavors.  The aftertaste is moderately bitter.  There was less malt flavor in this one than I expected from the description, but the bitterness does moderate somewhat and the balance gets better as the beer warms.  It checks in with roughly 6% abv and 65IBUs.
For later this week, I'm eying some Big Sky Ivan the Terrible Imperial Stout ('08 and '09) and a bottle of Black Butte XXI I've been saving for a while. What's on your holiday wish list?