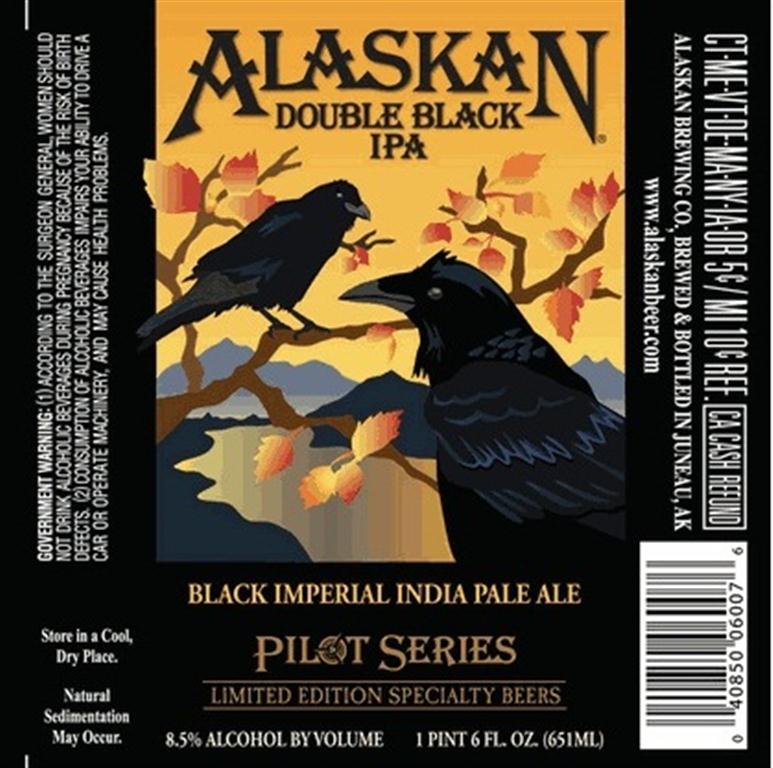 I've been waiting to find this new Pilot Series brew from Alaskan Brewing Company since I first saw the news release back in July. It is one of the reasons I stopped in at Bottles in Millwood, WA on our way over to Spokane last weekend.  I had not yet seen it in the Missoula area, but spotted it right away amongst Bottles' nice selection of 22 oz bombers.  As has happened a number of times in my search for beer, I was lucky enough to find it on tap soon after picking up a couple of bottles.
After settling in to our home for the weekend, we ambled over to the Post Street Ale House (corner of Post Street and Sprague Ave. in Spokane) for a beer before heading out to find some dinner.  Post Street Ale House has about 26 taps with quite a few of them rotating some fine brews.  There's a nice mix, too, running the gamut from IPAs to Stouts. I instantly recognized the Alaskan Double Black IPA tap handle, but had to think twice.  I knew the beer packs 8.5% abv and wasn't sure how smart it would be to start the night out with one of those.  But we weren't driving anywhere and the beer beckoned.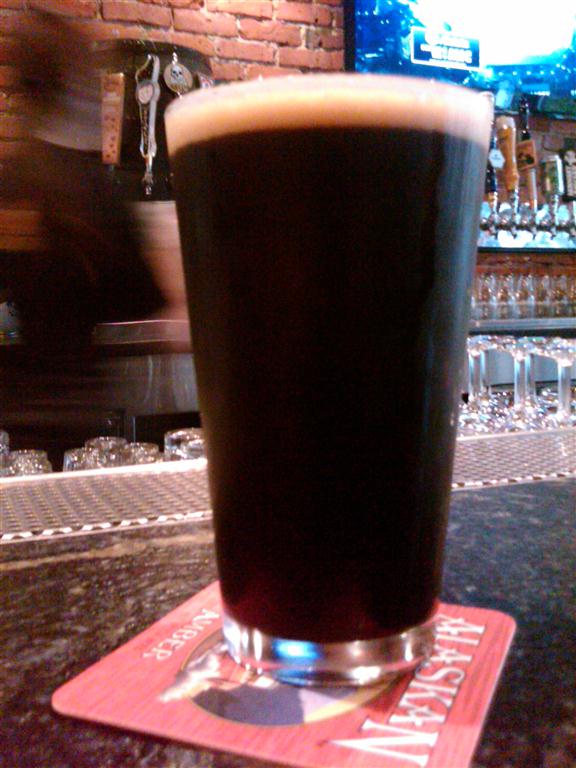 True to its name, Alaskan Double Black IPA, a " black imperial india pale ale" according to Alaskan Brewing Co., is solid black with a light tan head.  It has a roasted hop aroma.  Yes, I know I made that up, but smell it for yourself and you'll see. There's a little chocolate in the aroma, too.  The initial taste is of roasted chocolate with some coffee, but it transitions into a moderate piney hop finish with a bit of coffee thrown in.  The hop profile and bitterness isn't as strong as I expected, but this is the first imperial IPA I've tried.  The black IPA style continues to evolve with the common thread being a wonderful marriage of American IPA and dark roasted malts. This one, perhaps due to the extra malt backbone to make it an imperial version taste a bit more like a hopped up porter.  But that's not a complaint.  The mouthfeel is quite full, with a bit of creaminess. It is a rich, interesting beer that I definitely call a winner.  And I've got two bottles hanging out in the fridge.
You know those beers that draw you in from the very first sip? Yeah, this was one of those beers. It had us right away and we sensed we were in trouble.  We managed to escape for dinner, but headed back for another one when we were done.  If you do the same, be forewarned.  Sure, we've had more potent beers, but there was something about this one that sneaks up and makes you happy. Cheers.