Sierra Nevada Brewing recently released its new fall beer, Tumbler Autumn Brown Ale, and I've started seeing it arrive in Missoula's grocery stores over the past week. It replaces Sierra's Anniversary Ale in their line up of regular seasonals.
I've read (source: beernews.org) that Sierra replaced its Anniversary Ale for a couple of reasons. First, Sierra is releasing a series of special 30th Anniversary ales throughout 2010 and thought it would be a bit odd to also release the regular anniversary ale.  Second, they apparently decided they've simply got more than enough hop-featured beers out there already (think Torpedo, Estate, Fresh hop, Pale Ale, etc.). I'm pleased with this news because I do love a good brown ale, but last years' anniversary ale was far too similar to its current lineup to make it distinguishable (or interesting enough to buy or drink).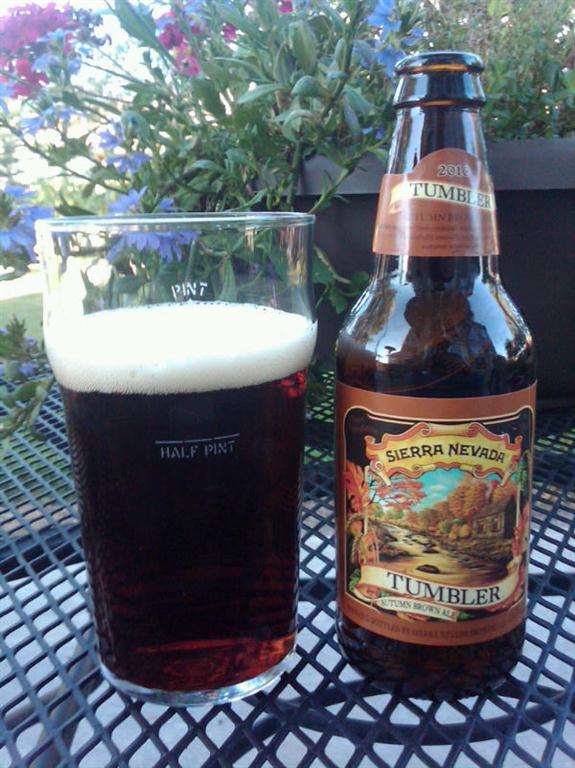 According to Sierra, Tumbler Autumn Brown Ale is made with fresh roasted malt that arrives at their brewery within days of cooling, lending a much more pronounced roasted-grain flavor. True? Heck if I can tell. The roasted grain flavor is definitely there as you would expect for a brown ale, but I couldn't tell you whether rushing the malt to the brewery makes the flavor more pronounced.  What I can tell you is that Sierra Nevada picked another winner and a big improvement over the Anniversary Ale. It is a clear, reddish brown color with a thick white head. I get a light caramel aroma.  The flavor is a nutty caramel and toffee flavor that finishes with some roasted flavors and a touch of hop bitterness. It has a medium body, 5.5% abv and 37 ibus. 
Now, about that name . . . .