Terminal Gravity Brewing's Breakfast Porter is a fascinating beer. On a recent weekend trip over to Spokane, WA, we stopped in at the Steelhead Bar and Grill on a whim and a quick look at the menu.  The place has a modern industrial look with a great vibe and great food at reasonable prices. When you go, get the Creole Shrimp appetizer.  That alone will have you going back.  It also has a nice rotating selection of beer on draft, most from the Washington and Oregon area. We asked for a sample of Spokane's Northern Lights Brewing's Crystal Bitter Ale and Enterprise, OR's Terminal Gravity's Breakfast Porter.
Our most excellent server admitted she wasn't an expert on beer, and when she brought the sample of Breakfast Porter we were sure she had it wrong.  In sample size – poured in a small rocks glass – it was medium red. That's right. Red. Not black or dark brown.  Never one to complain about a sample of beer, though, I looked past my skepticism and had a taste. What did I find? Chocolate and roasted malt. As in porter. What's going on?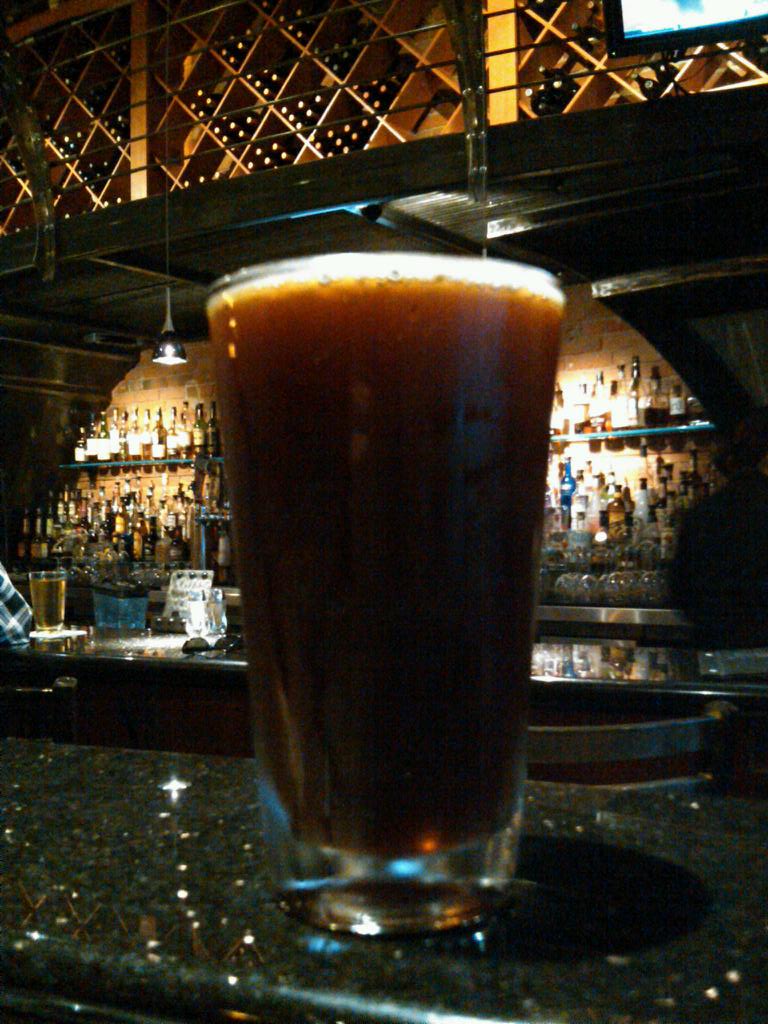 As you can't see in the picture (mine always turn out darker than reality), a full pint pours darker, but it is still an odd brownish-red. Terminal Gravity calls the color "plum" and I have to say that's a good description.  They also describe it as "not your average porter." I'll say.  It was an interesting experience to have one expectation based on color, and quite another when the flavors come across the tongue. It is a london-style porter which generally means it is a bit lighter and more refreshing than a robust porter such as Big Sky's Bobo's. I couldn't get the aroma, thanks to the wonderful smells coming from the restaurant's kitchen.  As for flavor, I found it to have a bit of a hop presence at first while finishing with the traditional roasted coffee and chocolate malt flavors.  By design, it is a fairly thin porter and one I could easily see being a session beer. I've never seen Terminal Gravity's beers over in Missoula, but I'm quite ready to give some more of them a try.