Black IPAs are all the rage. Though I don't know quite what to call them. As this blogger notes, it is a bit odd to call something both black and pale at the same time. The Brewers Association's style guidelines recognized this contradiction and decided to call the style "American-Style India Black Ale." This name recognizes the style's combination of an American IPA base with the introduction of roasted malts. Bartenders everywhere should bone up on the difficult task of deciphering between patrons asking for an IPA and an IBA.  And don't forget Big Sky Brewing's IBA, which wasn't black at all.
According to the style specifications, an American-Style India Black Ale should have "medium high to high hop bitterness, flavor and aroma with medium-high alcohol content, balanced with a medium body" and "a moderate degree of caramel malt character and medium to strong dark roasted malt flavor and aroma."  It should not have "high astringency and high degree of burnt roast malt character."  I'd say Blacksmith Brewing's Black Iron IPA fits nicely into this category.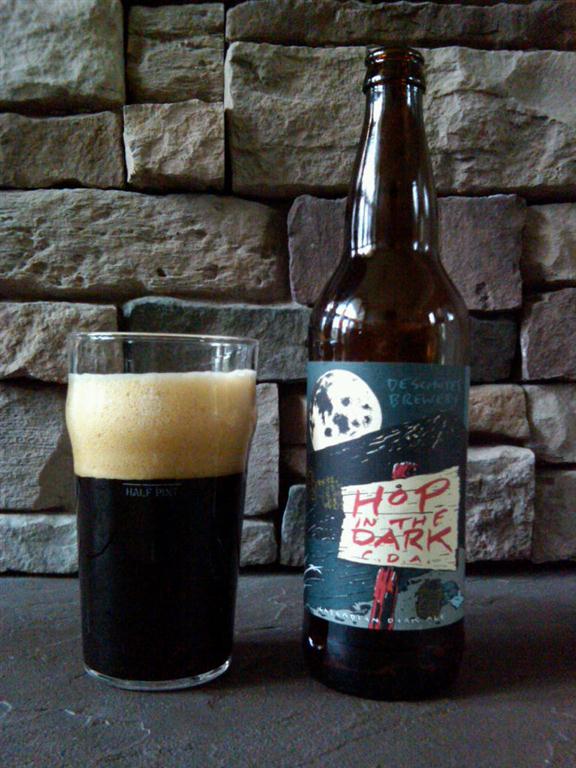 To make matters even more confusing, Deschutes Brewery popped out a new Bond Street Series brew (along with Hop Henge and Hop Trip) called Hop in the Dark Cascadian Dark Ale. It's a black IPA . . . err . . uh . . . . an American-style India Black Ale  . . . um . . . cascadian dark . . . . oh, never mind. What I can tell you is the beer pours black with ruby highlights and a super big, off-white head.  Deschutes says this IPA "adds deep roasted malts to alter the hue and slightly smooth the edges." I'd agree.  The aroma is very strong cascade hops.  The initial taste is earthy and smooth, but that quickly disappears into moderate hop flavor and bitterness.  The finish is moderately bitter, but there really is a smooth edge to the whole beer.  I quite rather enjoyed it and I'm finding the style to my liking.
Update:  While on a weekend trip to Spokane June 18-20, I had an opportunity to have a couple of pints on draft at the Post Street Ale House.  I have to say, I enjoyed the beer even more.
Name: Hop In The Dark Cascadian Dark Ale.
Brewery: Deschutes Brewery, Bend, OR.
Style: Black IPA, IBA . . . whatever.
Color: Black with ruby highlights. Off white head.
Packaging: 22oz bottle.
Stats: 6.5% abv, 70 IBUs (according to the label).
Bought: Rosauers, Missoula.
Ruling: Three and a half out of Five Hops. A very good example of an emerging style.