Posted prominently at all time along the edge of this blog is my philosophy about enjoying beer. It's all relative. That's really how I feel about beer, though I'll admit to hoping it staves off the occasional angry email when I haven't enjoyed a favored beer as much as someone else.
I mention this because I got a chuckle this week when Tim at Grizzly Growler posted his review of BridgePort Brewing Co.'s Hop Czar.  Coincidentally, I'd picked up a six pack of this beer to try about a month ago and have been having trouble figuring out what to say about it. Hop Czar is a "triple hopped bottle-conditioned,  imperial-style IPA that carries a deep malt backbone with enthusiastic citrus and floral notes paired with high hop bitterness" according to BridgePort.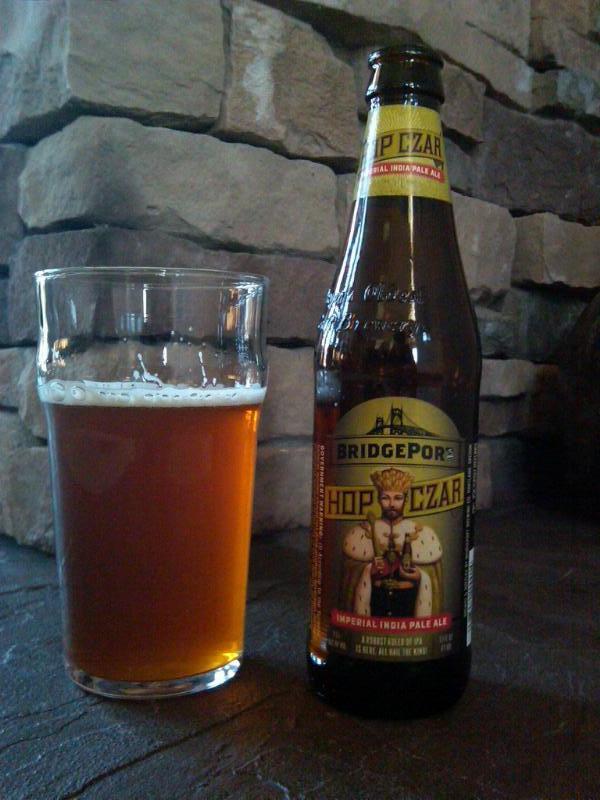 At 7.5% abv, I have no trouble believing there is a deep malt backbone in there somewhere. But I couldn't find it.  I finally decided that I am not capable of adequately reviewing it.  It indeed does have "copious amounts of Nugget, Chinook, Cascade and Centennial hops" as BridgePort explains it. In my recent exploration of IPAs, particularly the double/imperial IPAs I typically found a strong malt presence transitioning to sharp hop bitterness which eventually moderated into an interesting balance of flavors.  Not with Hop Czar. It is sharply bitter at the start, middle and end.  I suppose that's exactly what one expects with a fun and descriptive name like  Hop Czar.
The bitterness is far too pronounced for me to enjoy this beer, but the beautiful thing about beer is its great variety to fit all tastes.  Tim enjoyed it immensely, discovered the malt and found it much less bitter than me. So I invite you to see the contrast by checking out his review. It's all relative. And great fun.