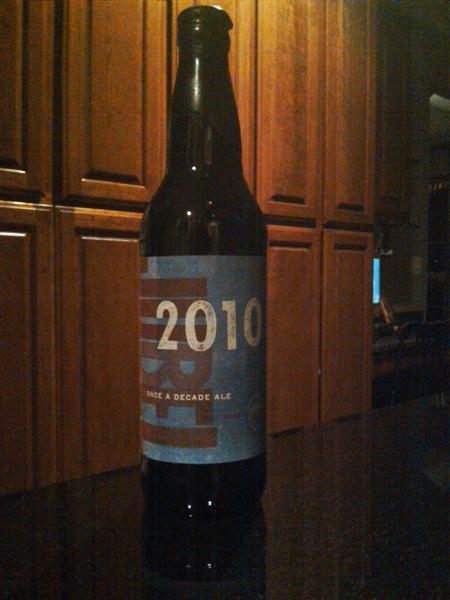 I've become a huge fan of Deschutes Brewing Company's Reserve Series.  These curious, complex beers are an adventure all to themselves.  After years of missing out on the Abyss, I was finally able to score a few bottles and have some on tap earlier this winter.  I'm guessing Deschutes has significantly increased its production of these beers given the better availability. I've also got a bottle of Black Butte XXI stored away and waiting for just the right urge to give it a try.
Finding the Abyss got my hopes up for also finding Deschutes' most recent Reserve Series brew, Jubel 2010 Once-A-Decade Ale.  My hopes were realized this week when I spotted it in the cooler at Worden's Market in Missoula.  Mark does a great job at Worden's keeping something new on the shelf and there's always an inventive and interesting brew ready to explore.  I haven't checked around town, but you may also find it at the Good Food Store and Pattee Creek Market.  I saw the Abyss at both of them. Once I open up the Jubel 2010 I'll let you know how it treats me.
Update:  As of Friday, March 5, Jubel 2010 is on tap at the Rhino in Missoula.