Do you guys serve food? It is a question asked frequently at Montana breweries' taprooms and one I've heard often. The answer is typically no (hold on, keep reading).  As we learned in the last installment of Montana Beer Laws, the sale of alcohol is a highly regulated matter and includes limits on how, when and what can be sold. That said, I haven't been able to find anything in the Montana statutes or Adminstrative Rules of Montana that technically prohibits the sale of food.  Yet, there are certainly practical reasons why it is difficult.
Montana breweries are licensed to manufacture, package and sell beer. They can sell beer to a wholesaler, directly to retail licensees and the public (all with limitations, of course).  As discussed last time, sales for on-premise consumption by a brewery are limited to 48 ounces per person, per day between the hours of 10 a.m and 8 p.m. And that's only if you qualify as a "small brewery," one that manufactures less than 10,000 barrels a year (one barrel is 31 gallons of beer). If you want to serve food AND alcohol beyond these times and limitations, you're going to need something other than a brewery license.  You'll need an all-beverage license, or potentially one of a couple of other less desirable choices.  The owners of a brewery license are generally prohibited from also owning one of the other kinds of licenses.
"But wait!," you say. How come I can get a burrito or cheeseburger at Bitterroot Brewing in Hamilton, pub food and wood fired pizza at Montana Brewing Company in Billings, and everything from pizza to grilled salmon and ribeyes at Tamarack in Lakeside?  "You must not know what you're talking about!"  Well, that might be true, but let me explain.
If you've been inside Bitterroot Brewing, you know that the restaurant doesn't sell beer and the brewery doesn't' sell food.  They're two separate businesses which happen to share some common area.  As described here, when you're sitting in the Tamarack Brewing Company Alehouse and Grille, you're not sitting at a brewery. You're sitting in a restaurant that just happens to have a great view of the fermenters in the separate brewery. Same goes for the Montana Brewing Company. The latter two have all-beverage licenses for on-premises consumption of beer (wine and liquor, too) and are not saddled by the restrictions applicable to "small breweries." Why? Because it isn't the brewery selling you the beer. The Great Northern Brewing Company is the latest brewery to make this change.  What was once their tasting room is now the Draught House, a restaurant with a separate alcohol license.  That's a significant benefit over merely sharing space with a food business.
These guys aren't "getting around" the beer laws. Obtaining brewery licenses or other alcohol sales licenses for on-premise consumption involves background checks, approvals of floor plans and even public hearings on occasion. Rather, these guys are creatively working within the overly complicated mish mash of Montana's alcohol laws to create the look and feel of a traditional brew pub.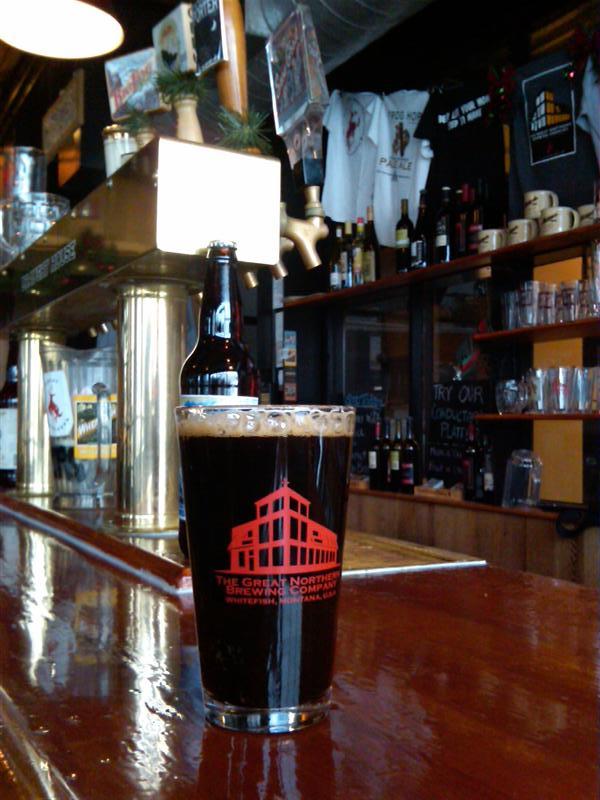 I know what you're thinking. Why don't more breweries do the same thing?  Well, I haven't asked them (yet), but part of the answer lies in Montana's quota system for on-premise consumption licenses.  There are two quota areas for each county in Montana. One quota area is established for incorporated cities and towns and includes the area five miles out from the corporate boundaries (as drawn in a straight line).  The second quota area is for those parts of the county that fall beyond the five mile radius of an incorporated city or town.  In Missoula County, for example, all of the licenses within the city quota area have long been allocated.  If you want one of those, you'll have to buy and transfer it from someone else, to the tune of $1 mil plus for an all beverage license and $400K plus for a beer and wine license. [Note, those prices have dropped significantly in the economy that is 2009-2011.] Love it or hate it, that's the law of supply and demand for you.  That acquisition cost is obviously very burdensome. 
On the other hand, there remain a few unallocated licenses in the Missoula County quota area that can be obtained for the price of the application fee, which, depending on configuration, can be had for less than $1,200.  So, if you live out in the boonies, the acquisition costs – until the licenses have all been allocated – are fairly minimal.  Sounds great until you realize you're out in the boonies.  If the boonies (i.e. 5 miles outside an incorporated city and town) are a place like Lakeside, it can be a pretty attractive option.  If they're a place like Greenough, good luck.
One final note.  Montana's alcohol laws are complex and I have not begun to describe all the nuances and details. So take this post for what it is: an introduction to the general concepts and explanations for what you're seeing out there on the ground, not a treatise on how to obtain a license.
Next up? Montana Beer Laws 103:  HB400, a great success story.