Yes, really. Dead Guy Ale is a mainstay of Rogue Brewing. I've always been surprised it is a maibock because the hop profile seems too bitter, but nevertheless, that's what Rogue calls it. I've generally not found Dead Guy Ale, to my liking. But when I saw John John Dead Guy Ale on tap at the Rhino in Missoula, the curiosity got the best of me and I asked for a pint.
Rogue brews fine ales as well as spirits.  The brewmaster's name is John and the master disteller's name is also John. So now you know where the John John comes from. These two guys got together and decided to blend their two craft's together.  Beer John brewed up some Dead Guy Ale and drove it across the parking lot (I'm not making that up) to age the beer in some of Distiller John's whiskey barrels.The result is John John Dead Guy Ale, a maibock aged for three months in whiskey barrels. It is part of a new series of ales blending the beer and spirit divisions of Rogue. Apparently, they brewed 3,100 gallons of this one and you can find it on draft and in 22 oz. bottles. If you're lucky. Next up are the John John Juniper Pale Ale, Rogue's Juniper Pale Ale matured in Rogue Spruce Gin barrels, and the John John Hazelnut Brown Nectar, Rogue's Hazelnut Brown Nectar aged in Rogue's Hazelnut Spiced Rum barrels.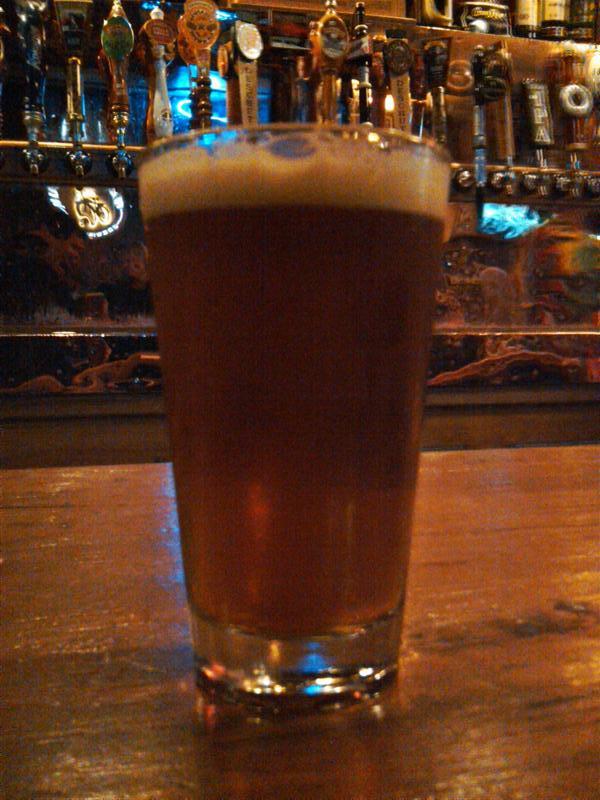 This John John pours a nice amber color with a white head.  The aroma is sweet.  The initial taste is a very pronounced whiskey. It is not at all what you'd expect for a beer of this color and that's part of what makes it such a fun one to drink. It flips your perception. There's certainly a hop hit in there as well, though the whiskey stays with you all the way through the taste profile. Rogue's offerings tend to be too bitter for me, but this one is a really enjoyable brew. Partly for the novelty and mostly because it is just darn good.  I'll certainly be looking for the next ones in this series.
Name: John John Dead Guy Ale
Brewery: Rogue Ales, Newport, OR.
Style: Maibock aged in whiskey barrels.
Color:  Light amber color with white head.
Packaging: draft.
Stats: 6.5% abv, 40 IBU.
Bought: The Rhino, Missoula.
Ruling: Four out of Five Hops. Unusual, fun, unexpected beer.