The second beer in my IPA round-up is Deschutes Brewing's Hop Henge Experimental IPA. Deschutes has been tweaking this experimental IPA for several years now, though I haven't had it often enough to recognize the changes.  Hop Henge Experimental IPA is part of Deschutes' Bond Street Ales Series, three "hop-forward" seasonal beers that continue to add to Deschutes wonderful line up of inventive, interesting beers. Red Chair IPA and Hop Trip Fresh Hop Ale are the other two.
According to Deschutes, this year's Hop Henge uses several new hop processes and techniques, though they give no details which makes the information rather useless. It is dry hopped with Centennial and Cascade hops. In fact, there's a ton of hops.  The beer sports 95 IBUs which would normally send me running for the hills.  But it also sports 8.75% abv, providing a substantial malt base for an impressive balance.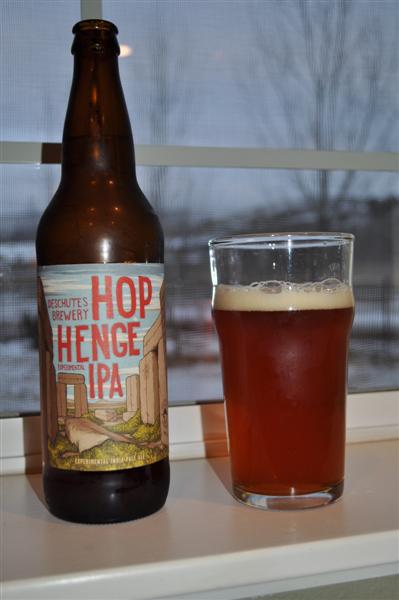 Hop Henge pours a hazy medium amber color with a white head. I get a strong floral hop aroma. The taste is big floral hops over top a prevalent malt base.  It is fairly full bodied, though not creamy. I was inevitably comparing it to the Mojo Risin' double IPA which I'd had earlier in the day and found Hop Henge to be more of a straight up IPA without the complexity of Mojo.  The balance is very nice, despite the 95 IBUs and I found it paired well with some homemade crab cakes with cilantro lime sauce. Overall, the bitterness level was much less than I expected. It's a keeper.
As I was trolling around Deschutes' website, I saw that Deschutes' has released "Jubel 2010 Once a Decade Ale" that has been aged in Oregon Pinot oak barrels. I'm guessing it will be in pretty limited supply and might not make it over here to western Montana.  If you're lucky enough to find it, pick up two and we'll work a trade. 
Name: Hop Henge Experimental IPA
Brewery: Deschutes Brewery, Bend, OR.
Style: Imperial/Double IPA.
Color: Hazy golden amber with orange highlights; white head
Packaging: 22oz bottle.
Stats: 8.75% abv, 95 IBU.
Bought: Worden's Market, Missoula.
Ruling: Four out of Five Hops. Very nice IPA that pairs well with food.