Thanks to a bit too much gluttony over the holiday season, I haven't been trying (or drinking) as many beers as became my custom (preference?) in a quest to return to my normal size. I'm pleased to report that my quest was quite successful, though other goals continue to take a swipe at my craft beer obsession.  Fear not, though. Growler Fills carries on.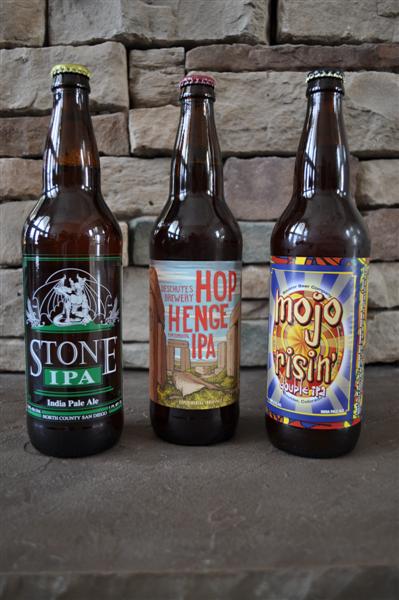 I thought I'd open up something new, fun and exciting for the super bowl weekend and spotted a rather curious looking double IPA at Worden's Market in Missoula. That got me thinking. Why not make it an IPA round up kind of a weekend?  Hey, I don't pretend to be a constant source of other-worldly intelligent thinking, but one doesn't need too much inspiration when searching for a reason to buy new beer. So, with that in mind, I picked up three different IPAs to pop open and enjoy. My intent isn't to compare one to the other. Rather, these were three that happened to capture my attention when perusing the local selection.
Stone IPA, from Stone Brewing Company, Escondido, CA and Hop Henge Experimental IPA, from Deschutes Brewing, Bend Oregon, are fairly widely available. At least in the Northwest.  I don't know about Mojo Rising from Bolder Beer Co., Boulder CO.  I'll let you know how they turn out.