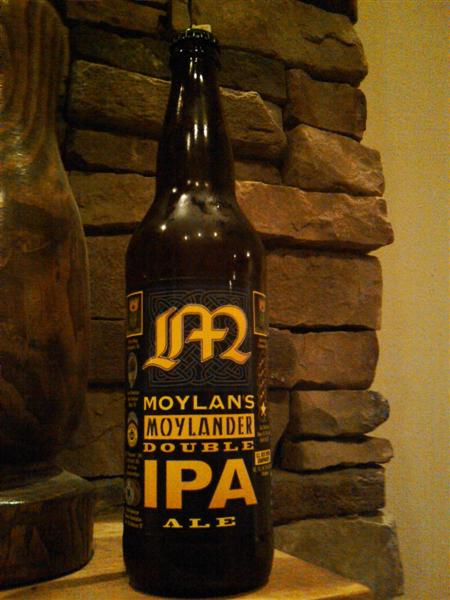 There was a time not long ago when I figured I would never welcome a strong dose of hops into my beer world. But that was before I tried IPAs like Blackfoot River's Single Malt IPA and Tamarack Brewing's Headwall Double IPA and realized IPA doesn't have to mean tongue splitting bitterness. Sure, hops are featured, but flavors and aromas often dominate more than the bitterness.  When it comes to double IPAs there's a level of malt present that creates a very interesting style often transitioning sharply between strong malt and strong hop flavors.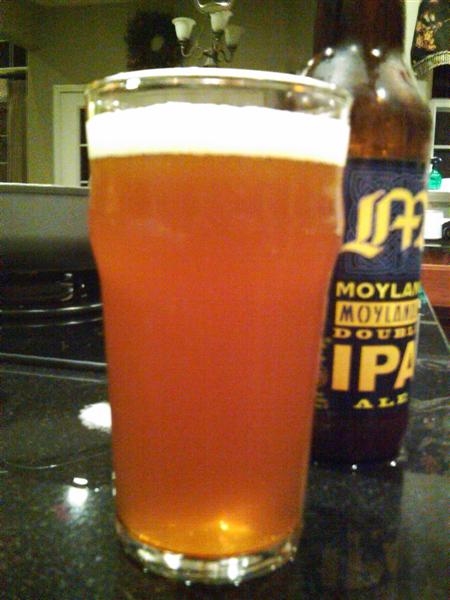 I picked this one up at Topper's over in Helena, but have seen it in bottles around Missoula, if memory serves correctly. Moylan's Double IPA is a big beer with a big white head and a very large mouthfeel. It has a strong floral, almost earthy, aroma.  It finishes with strong hop bitterness, but there's a lot of malt in there, too. Moylan's, like Rogue, is another brewery that does a great job sharing information about their beers. I'll be on the lookout to try more from these folks.
Name: Moylander Double IPA
Brewery: Moylan's Brewing Co, Novato, CA.
Style: Double IPA.
Color: Cloudy, light copper, almost orange color.
Packaging: 22 oz bottle.
Stats: 8.5% abv, 90 IBU.
Bought: Topper's Cellar, Helena, MT.
Ruling: Three and a half out of Five Hops. Fun, interesting, big IPA.