Black IPA. Huh?  This was a new one for me, though after reading up about it one could certainly say black IPAs are a strong trend. Whenever enough brewers set out to try something like this it invariably triggers a debate about beer styles. Create a critical mass around a central theme and the beer gods just might create a new beer style for the books.  This doesn't happen often, but did occur in the past few years with double (or imperial) IPAs. Which brings me to the point of this post: What is it?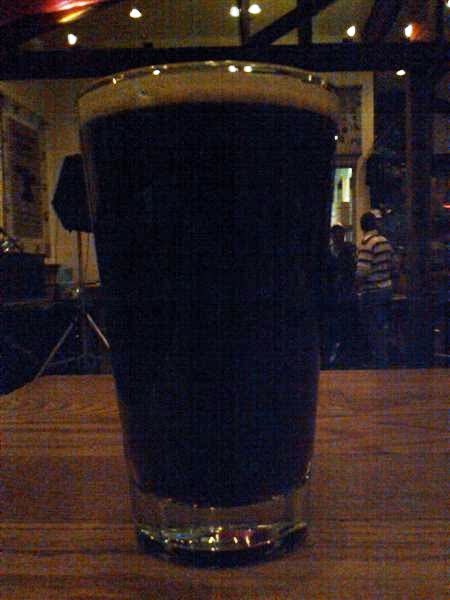 My first experience with a black IPA was down at Blacksmith Brewing Co. on Jan. 2.  The name drew me in: Black Iron IPA.  The taste had me ordering a second pint. As you've probably guessed, Blacksmith's Black Iron IPA is black (yes, the picture stinks). It has an off white/tan head and checks in at 6.2% abv.  It has a bit of an earthy aroma (dry hopped with columbus hops) which matches with an underlying earthy taste. What is unusual about this IPA is the addition of chocolate and black malts which contribute both color and flavors.  This is a very balanced beer from the initial taste all the way through the aftertaste.  The hop bitterness is less pronounced than in Blacksmith's more traditional Cutthroat IPA, likely due to more of a balance with the chocolate and black malts.  You can clearly taste the roasted/chocolate malts and it contributes a wonderfully interesting flavor. Blacksmith describes it as an "out of the box" IPA and they clearly delivered.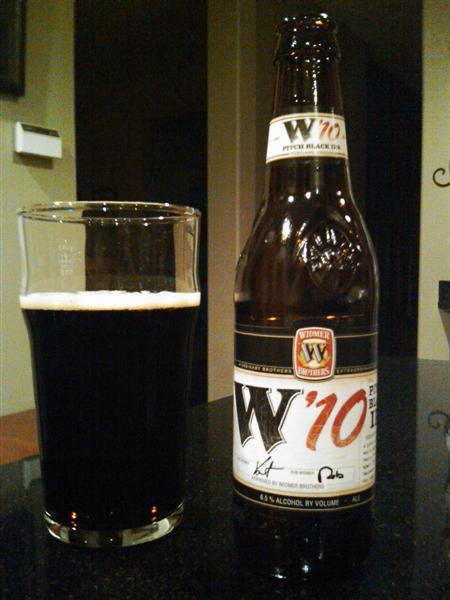 A few days later I was in a local grocery store and spotted Widmer's 2010 "W" Brewmaster's release: Pitch Black IPA. Though I'm not usually a fan of Widmer's brews, my curiosity was running quite high at the discovery of a second black IPA in less than a week.  The label describes it as having "a pinch of black malt and a splash of roasted barley."  No surprise, the color is black and there's a few red highlights in there. It has a white head and 6.5% abv. The aroma is hop all the way (I smell cascades) as is the taste.  There's a moderately high hop bitterness level.  Once I adjusted to the hop level I found it to be a pleasant IPA, but that's it.  There's nothing more than color contributed by the black malt and roasted barley. Curious, I checked out Widmer's website and found the answer.  "We add a modest amount of a specially made debittered black malt to give this IPA a very dark color but without the characteristic dark malt flavors."  To which I thought, why bother?  Don't get me wrong, I'll have no trouble finishing out the six pack.  But once past the momentary curiosity of the unusual color, it's disappointing the Widmer folks did nothing more with the beer.
I'll have to try a few more before joining the debate about creating a new style category for black IPAs.  I can't imagine creating one simply because of a different color.  But if more brewers are using the roasted malts to add color and flavor, they might be on to something.
The winner here?  Hands down, Blacksmith's Black Iron IPA. Changing the color is fun, but introducing new flavors is far more interesting.