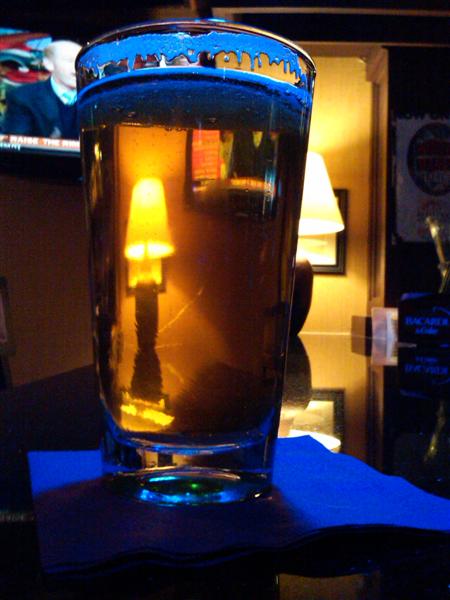 This beer from Red Lodge Ales had just been put on tap at Brooks and Browns in Missoula when we stopped in before heading to the Wilma to watch the national championship game with 1,000 of our fellow Griz fans. Alas, the Griz didn't prevail, but the beer was a winner. It is a golden bock, with a light golden color, white head and strong, smooth biscuit/grain flavors.  For those not familiar with the style, golden bocks (also known as helles bocks) are deceptive beers.  The light color can trick you into believing the flavor might be as thin as a domestic macrobrew.  Yet, this Red Lodge Ales version is a medium-heavy bodied beer with great full malt flavor, a bit of hop bitterness to the finish and 6.5% abv.
If you're interested in trying a golden bock beer and need the bottled variety, I recommend Gorden Biersch's Blonde Bock (malty, biscuit flavors, medium hopped, 7% abv, beautiful light golden color) which will give you a good introduction to the style. I've seen six packs regularly at Missoula's Good Food Store and occasionally at Missoula's Worden's Market.
Name: Widow Maker Lager
Brewery: Red Lodge Ales, Red Lodge, MT.
Style: Golden Bock (Helles Bock).
Color: Light golden with white head.
Packaging: draft.
Stats: 6.5% abv, ? IBU.
Bought: Brooks and Browns restaurant, Missoula.
Ruling: Three and a half out of Five Hops. Good, smooth, enjoyable golden bock.