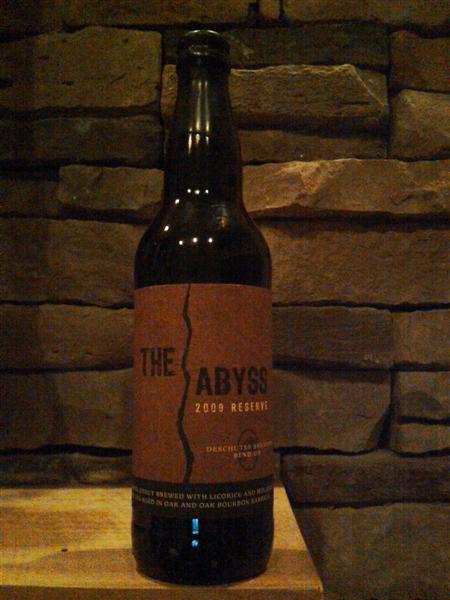 In three or so years, this very limited production brew from Deschutes Brewing Co. in Bend, OR has already reached mythical status. It is an imperial stout with licorice and molasses with approximately 30% aged in oak and oak bourbon barrels. I tried to get my hands on some the past three releases without success. Part of the problem has been Montana's restrictive beer laws which were only recently changed to make the sale of this beer legal in Montana. I was even in Portland at a Whole Foods Store a couple of years back soon after its release, but the folks in the store told me they'd sold out of 20 cases in a matter of a couple of hours. Yeah, it's that hot.
Year four is my lucky year. Several cases of The Abyss showed up at Worden's Market in Missoula two weeks ago. I grabbed two bottles while having some lunch and still managed to keep a cool, calm exterior expression.  I also immediately wondered if I should have bought more, a slightly uneasy feeling I corrected a few days later. I figured I'd drink one and save one, but now I've got a bit more flexibility. Plus, when you pick up a beer with a "best after" date stamped on the side, you know you're going to want to do some comparison tastings.  In this case, the "best after" date is October 2010. Holy cow.
But that was only the first half of my luck. Last weekend on a purely-for-the-fun-of-it trip to Kalispell, we stopped in at one of our favorite restaurants, the North Bay Grille, just a block off the main drag through the center of town. Friday night was Kalispell's Holiday Art walk and the frigid temperatures had not yet set in. Downtown was as lively as I've ever seen it and the lightly falling snow seemed perfectly ordered up by the local chamber of commerce. As the bartender read off the list of tap beer, I was stunned to hear "the Abyss" as one of the offerings.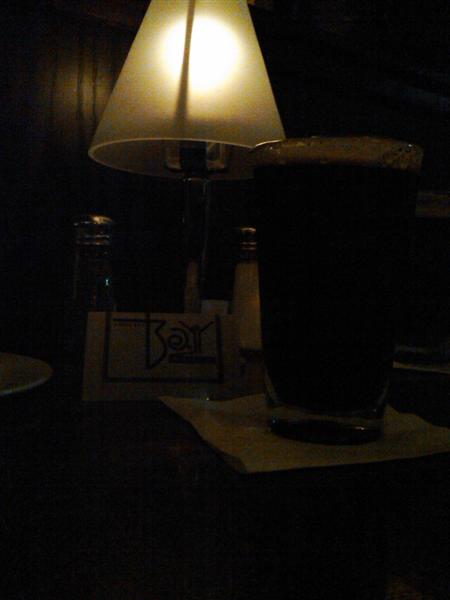 Frankly, I wondered if the folks at North Bay Grille knew what they had on their hands, but they appear to be more sophisticated at these things than the average crowd. (They've only got one keg, so you'd better hurry down.)  In fact, they seemed to take delight in someone ordering up a pint. Yes, a pint. I've never been served an 11% abv beer in a full pint glass. All the other high gravity beers have been served in a smaller snifter glass – partly due to the high alcohol and partly due to the shape of the glass which concentrates the aromas of these powerful brews. Can't say I was complaining, though, especially since I had a safe ride back to the hotel.
Deschutes describes The Abyss as having immeasurable depth and even that grand pronouncement may be an understatement. I've never enjoyed pondering a beer more and had to return the next night for another pint.  It is a huge beer. Dark, rich, complex, chewy and robust. The aroma is dark malt and alcohol. There is more hop bitterness than I expected and the alcohol is very warm and pronounced. There is a sweetness there, but it isn't syrupy.  The flavors keep coming at you long after the swallow – always with a roasted malt base, but a variety of other flavors arriving and departing. There's chocolate, both milk and dark. I detected less bitterness once it warmed a bit and a slight bourbon taste began to come through. A subsequent business trip allowed me to have a follow up pint and I found the bourbon to be much more pronounced, though it is hard to determine at times whether I'm tasting the bourbon or just the strong alcohol. Each sip remained interesting and brought a sly grin to my face. Ahh . . . a lucky year, indeed.
Name: The Abyss
Brewery: Deschutes Brewery, Bend, OR.
Style: Imperial Stout with flavors.
Color: Very black, with a dark brown head.
Packaging: 22oz bottles; draft (both very limited quantities).
Stats: 11% abv, 65 IBU.
Bought: Worden's Market, Missoula (bottles); North Bay Grille, Kalispell (draft).
Ruling: Five and a half out of Five Hops. An unusually incredible experience with beer