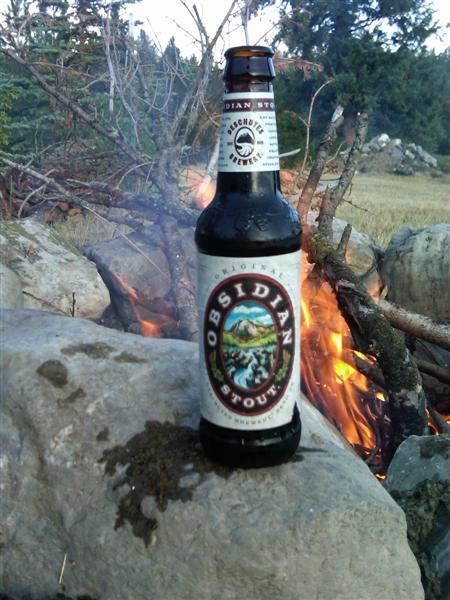 I've loved this stout for a long time. It is exactly what a robust stout should be. Strong roasted malt with a bit of a bite. Great dark chocolate aroma. Lots of coffee flavor like a good Italian or French roast with a bit of chocolate undertones.  Deschutes Brewery in Bend, OR consistently brews some of the best year-rounders as well as some of the most interesting and enjoyable seasonal and special reserve brews.  I've got a bottle of Black Butte XXI hidden away waiting on the right occasion to pop open.  I've tried to get my hands on some Abyss for years now without success. But really, I'm just posting this one as an excuse to put up the picture. I took it this summer while enjoying the new fire pit up near Rollins on Flathead Lake one summer evening. Ahh . . . .
Name: Obsidian Stout
Brewery: Deschutes Brewery, Bend, OR.
Style: Robust Stout.
Color: Very black, with a dark tan head.
Packaging: 12oz bottles.
Stats: 6.4% abv, 50 IBU.
Bought: Common in many grocery stores with a decent beer selection.
Ruling: Four and a half out of Five Hops. Classic robust stout.